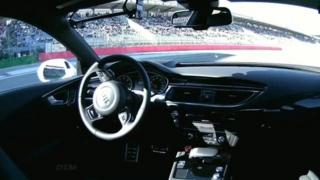 Self-driving car breaks speed record
A new world speed record for a driverless car has been set in Germany.
The un-manned vehicle topped speeds of 149 miles per hour on a racing circuit.
It's one of several new models designed to be able to travel without anyone in the drivers seat
The RS7 car, which is made by Audi, used cameras, laser scanners, GPS, radio transmissions and radar sensors to guide itself around the track.
Watch it in action here.
Watch more Newsround videos