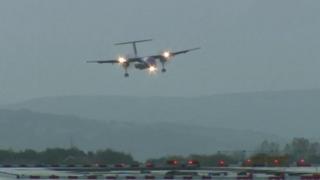 Gonzalo gives planes a wobble as they land
Strong winds were felt across much of the UK on Tuesday as the remnants of Hurricane Gonzalo hit Britain.
The wet and windy weather made it tricky for pilots landing at Manchester Airport, with planes wobbling as they came in to touch down.
At the UK's busiest airport, Heathrow, around 10,000 passengers were affected by flights being cancelled.
Watch more Newsround videos