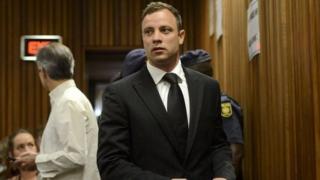 Pistorius sentenced to five years
Oscar Pistorius has been sentenced to five years in prison for killing his girlfriend Reeva Steenkamp.
His defence team said they expect he will serve 10 months in prison and the rest of the sentence under house arrest.
The South African athlete was convicted of culpable homicide but cleared of murder in September.
Killing someone by accident, but by acting carelessly, is known in South Africa as culpable homicide.
Watch more Newsround videos