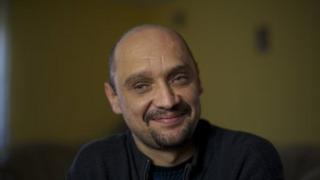 Paralysed man can walk again
A paralysed man can walk again after a new therapy transplanted cells from his nose into his damaged spinal cord.
Darek Fidyka had been paralysed from the chest down for nearly two years but can now walk using a frame.
Scientists chose to take cells from the nose because they contain nerve fibres that are constantly regenerating.
The surgeons then transplanted them into the spinal cord, using them to fill the gap in the cord.
Fibres above and below the gap in the spinal cord were then able to reconnect, allowing him to walk.
The transplant is the first time it's ever been tried and was carried out by surgeons in Poland and scientists in London.
Darek said walking again, with the support of a frame was "an incredible feeling", adding: "When you can't feel almost half your body, you are helpless, but when it starts coming back it's like you were born again."
The BBC programme Panorama was given access to the project for the past year and filmed the whole process.