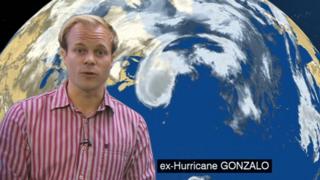 Remnants of Gonzalo hits Britain
Gales and heavy rain are expected across the UK today as the remnants of Hurricane Gonzalo hit Britain.
Some airports have cancelled flights and drivers on the road are expected to be affected by the wet and windy weather.
The hurricane started on the other side of the Atlantic Ocean, when it hit the island of Bermuda last week.
But Gonzalo isn't classed as a hurricane anymore because its lost a lot of power as its made its way across the Atlantic.