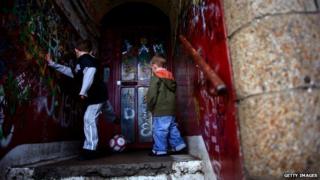 Getty Images
A report out today says 1.4 million children in the UK are affected by poverty.
The Social Mobility and Child Poverty Commission, who have released the report, say that they expect child poverty to rise in the next few years.
The government had set 2020 as a target to reduce the numbers of children living in poverty but the report says that this goal will not be met.
What is poverty and how is it worked out?
Poverty can mean being a lot poorer than other people.
Deciding who is living in poverty is complicated but at the moment, a child is classed as being in poverty if their family income is less than 60% of average earnings.
The report says that the high cost of housing and the amount of young people out of work both need to be dealt with in order for poverty levels to improve.