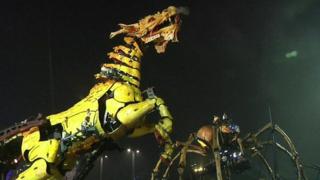 Robot dragon versus giant spider
A giant spider and a huge horse dragon have faced one another in battle at Beijing's Olympic Park.
The two beasts were in reality giant robots designed to celebrate the 50th anniversary of France and China working more closely with each other.
The horse dragon robot was 17 metres long and weighed 45 tonnes but the spider was not small either with a massive 20 metre leg span.
The mechanical figures acted out a Chinese folk story about a goddess who helps save the world.
They were built by a company in France and were operated by people riding inside them.
Have a look at them in action.
Watch more Newsround videos