Sunderland manager Gus Poyet says his side's 8-0 defeat at Southampton is his "most embarrassing" moment in football.
The Black Cats suffered their heaviest Premier League loss, and biggest defeat in 32 years, in the game at St Mary's.
"It's the most embarrassing time I've had on a football pitch. I cannot watch it again," said Poyet.
"I learned a lot about the players - the bad side as some gave up and I know who they are for the future. I feel very sorry for the fans."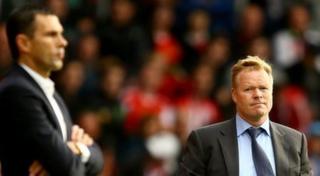 Getty Images
Poyet said he may tell his players to watch a recording of the game, and expects a reaction from them when they face Arsenal next Saturday.
"Maybe the players will watch it. Maybe it will be good therapy for them to watch themselves," said the Uruguayan.
"It's going to be a difficult week. The players who are on the pitch next week are going to do something about it."