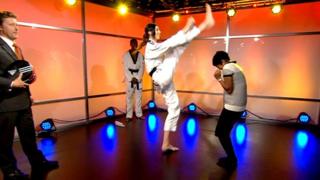 BBC presenters try taekwondo
Next weekend hundreds of the world's leading athletes will compete in the Taekwondo Grand Prix in Manchester, hoping to take them one step further on the path to Rio 2016 Olympics.
The sport is 2000 years old, but Taekwondo only became an Olympic event 14 years ago.
Olympic bronze medallist Lutalo Mohammad and Olympic hopeful Jade Slavin showed BBC Breakfast presenters, Charlie and Naga, some moves!
*These moves were performed and supervised by professionals - please don't try this at home.
Watch more Newsround videos