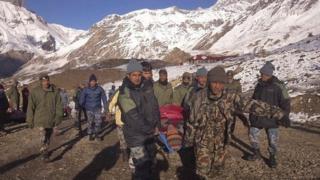 40 rescued after Himalayan blizzards
Search teams have rescued 40 trekkers in the Himalayas, after a freak snowstorm hit the mountains earlier this week.
Good weather meant troops and helicopters could now reach the highest point of the Annapurna circuit in Nepal for the first time to help survivors.
Rescuers airlifted people to safety but some are badly hurt and are being treated at a local hospital.
More than 200 people had already been rescued on Thursday.
At least 29 people are known to have died.
Watch more Newsround videos