Nearly 400 people have been rescued from the mountain ranges in the Himalayas, in what is Nepal's worst-ever trekking disaster.
A freak snowstorm hit the mountains earlier this week.
Good weather meant troops and helicopters could now reach the highest point of the Annapurna circuit in Nepal for the first time to help survivors.
Rescuers airlifted people to safety but some are badly hurt and are being treated at a local hospital.
The Annapurna mountains are 195 miles away from Mount Everest, the highest mountain in the world.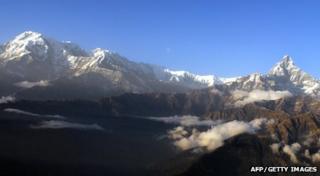 AFP/getty images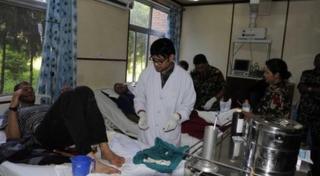 Other
At least 39 people are known to have died.
Nepal's high peaks attract some of the world's best climbers and trekking is generally safe.

What is the Annapurna Circuit?
Roughly 150 miles in distance and takes around three weeks to complete

Described as "the best long distance trek in the world"

Climbs to 5,416m (17,776ft) above sea level at the Thorung La Pass

Circuit passes Mount Annapurna, world's 10th highest mountain and one of the most dangerous