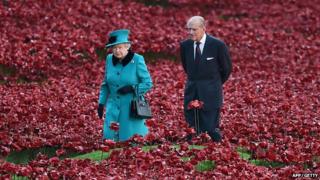 AFP/Getty
The Queen and her husband the Duke of Edinburgh have visited a World War One art installation at the Tower of London.
They installation features thousands of ceramic poppies. Each one represents the life of a British or Colonial soldier who died during World War One.
By Armistice Day, the day that we remember those who fought in World War One, there will be 888,246 ceramic poppies outside the Tower of London.
The Queen helped lay a wreath of poppies at the installation. The Duke and Duchess of Cambridge, and Prince Harry visited earlier this year.