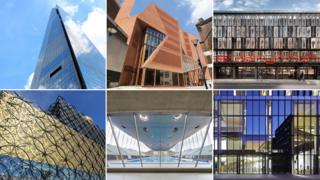 other
Six of UK's newest buildings are up for a big architecture prize.
The Riba Stirling Prize will be awarded by a panel of experts to the best new building.
The Library of Birmingham, Liverpool Everyman Theatre and Manchester School of Art are all nominated.
Completing the list are the Olympic Aquatics Centre, the Shard and the LSE Student Centre in London.
What's the most amazing building you've ever seen - and why?
I went on holiday to Dubai and I saw an amazing building called Burj Khalifa - the tallest building in the world - and we went in it!
Your comments
Millie, Kent, England
The most interesting building I've been to was St. Paul's Cathedral on a school trip. It was really cool because there is a whispering gallery where you whisper on the wall and people can hear you.
Sophie, UK
I think Beaumaris Castle on Anglesey is amazing! It's just like a maze inside... A-maze-ing!
Louis, Manchester, England
I saw the Shard when I went to London and I think it's amazing!
Aidan, Beckenham, England
I went to the top of the Shard in London with my family. I like it because it is really high and you can see most of London from the top of it.
Grace, Scarborough, England
I saw a big department store in Birmingham. It's a big bubble. It looked pretty.
Mille, England
This chat page is now closed. Thanks for sending us your comments.