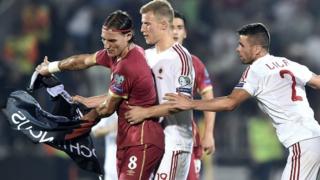 Getty Images
A remote controlled drone that was flown over a football match between Serbia and Albania sparked such big clashes that the game had to be abandoned.
The Euro 2016 qualifier was interrupted when Albanian fans, outside the stadium, repeatedly flew a drone with an Albanian flag attached over the pitch.
A Serbian player eventually grabbed the flag and pulled it down which prompted angry scenes between the players and a pitch invasion by fans.
Why does the flag matter?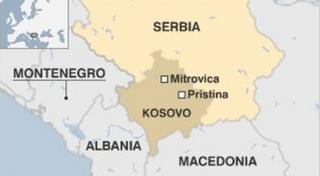 Serbia and Albania have been fierce rivals throughout history and both currently disagree about an area of eastern Europe, called Kosovo, that falls between the two nations.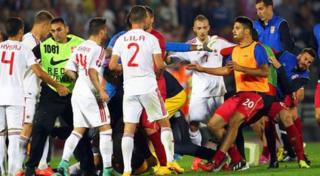 EPA
English referee
Albania's supporters had been banned from entering the stadium because of fears over the rivalry but had controlled the drone from the car park outside.
Premier League referee Martin Atkinson was in charge of the game and ordered the players off after angry Serbian fans started to run onto the pitch.
Then after a half hour delay he decided to abandon the game completely.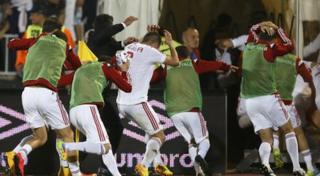 Reuters
Serbian journalist Milos Saranovic, who was at the match, told BBC Sport: "One small stupid situation made an explosion - that is the shortest way to describe the incident of the night.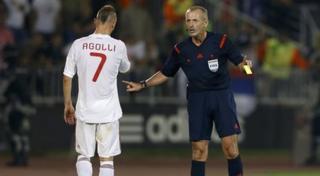 Reuters
"The players have usually been able to keep the atmosphere on the pitch normal. The game was normal for 40 minutes with no small accident on the pitch but when that flag appeared, the heat was going up."