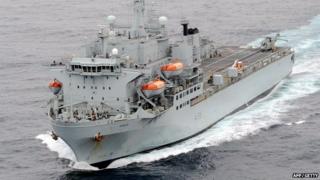 The ship helping to fight Ebola
One of the largest ships in the British Navy's fleet is getting ready to help deliver lots of important medical equipment to help fight against the Ebola virus in West Africa.
The the 28,000 tonne ship is called the RFA Argus, and is being loaded up with things like hospital beds and protective clothing, which will be used by doctors and nurses in Sierra Leone.
The most recent outbreak of the Ebola Virus has been spreading through West Africa since 2013. Medical centres there are struggling to cope with the thousands of people affected, and so other countries are starting to send help and supplies.
Last week the British government announced that 750 soldiers and medics would be sent to Sierra Leone.
The BBC's Jonathan Beale has been for a sneaky peak inside the giant ship before it sets sail on Friday.
Watch more Newsround videos