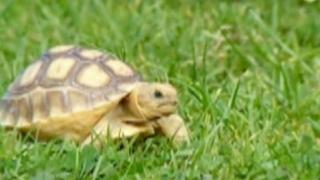 Tortoises born in Lake District
Four baby tortoises have been born at the Lake District wildlife park in Cumbria for the first time.
Keepers at the park have been trying to breed giant African tortoises for 10 years.
Margaret laid 15 eggs and four hatched, so they've been called Donatello, Raphael, Leonardo and Michelangelo after the Ninja Turtles.
Watch more Newsround videos