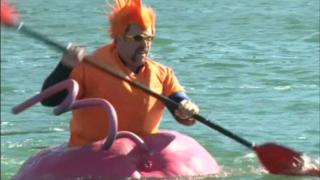 Row, row, row your pumpkin
You might be used to carving pumpkins for Halloween, but these guys have taken it to a whole new level!
Every year a town in Maine, in America, competes in a boat race with a difference as part of the town's annual pumpkin celebrations leading up to Halloween.
Competitors carve giant boats out of pumpkins and race them down a river in order to win the "coveted" Golden Gourd trophy.
They are judged on their pumpkin carving ability, and their paddling speed.
Watch more Newsround videos