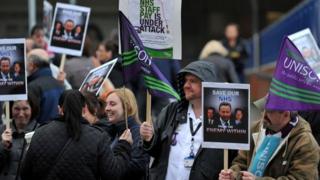 NASA
Nurses, midwives and ambulance staff across England have been on strike over pay this morning.
Patient services were disrupted, but emergency care was kept going, after an agreement between union leaders and management.
Military personnel and police were on stand-by to help ambulance services.
But some ambulance services did develop backlogs. Life-threatening cases were a priority.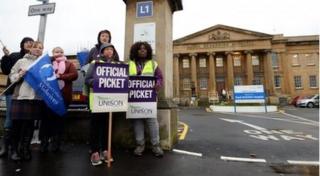 PA
Some hospital staff did walk off picket lines to help patients in some places.
999 calls were still being answered.
But outpatient appointments in hospitals, community clinics and some routine operations have had to be cancelled or the dates changed.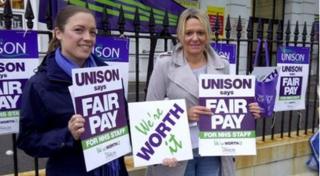 The Royal College of Midwives, went on strike for the first time in their history. No-one giving birth today was affected. The only services affected were ante-natal and post-natal care.
Doctors and dentists were not involved.
The union Unison, said the action - which is the first strike by NHS staff over pay in more than 30 years - would send a "clear message" to the government.
In Northern Ireland, members of Unite and the GMB are involved in a strike til 3pm today.
The government in England has awarded NHS staff a 1% increase.
But it's only for those that don't get automatic progression-in-the-job pay increases- that reward professional development.
These are worth around 3% a year.
An independent pay review board agrees the 1% increase should be for everyone.
It's already been given to NHS staff in Scotland.
Northern Ireland still hasn't decided what it's doing.
Wales has done the same as England and did give extra cash to the lowest paid.
Some unions are asking NHS staff about possible strikes there.
Christina McAnea, head of health at Unison, said the offer in England was a "disgrace".
RCM chief executive Cathy Warwick added: "MPs are set for a 10% pay hike, we're told that midwives don't deserve a 1% rise. Politicians wonder why the public does not afford them more respect. It feels to a great many people, that there is one rule for them and another rule for everybody else."