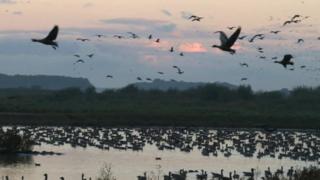 Record numbers of geese land
Forty five thousand pink-footed geese have stopped off at some wetlands in Lancashire, north west England.
They're migrating south from Iceland to find a warmer home for winter. They have travelled 500 miles.
A record number have made the pit-stop, which lets them rest and feed before carrying on.
Staff at Martin Mere Wetland Centre have been counting the geese and explain it's not an easy task.
Watch more Newsround videos