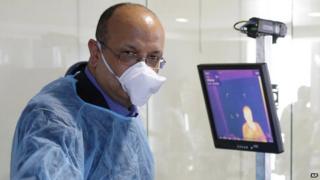 AP
Travellers coming to the UK from countries hit by Ebola are going to be checked for the virus.
It'll affect people arriving at Heathrow and Gatwick airports and Eurostar who've come from Liberia, Guinea and Sierra Leone in west Africa.
Passengers would be asked questions and possibly have a medical test.
Prime Minister David Cameron said: "Quite rightly, we're taking all the steps we can to keep our own people safe here in the UK."
Guide: What is Ebola? The virus explained
Earlier this week, it was announced that 750 British troops would be travelling to Sierra Leone to help tackle the virus.