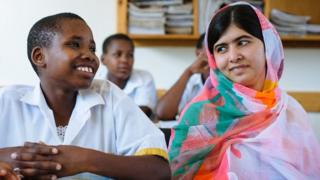 PA
The Nobel Peace Prize has been awarded to two children's rights campaigners, Kailash Satyarthi and Malala Yousafzai.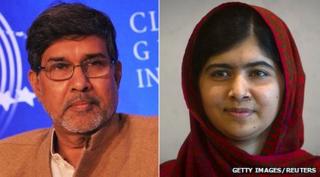 Getty Images/Reuters
Pakistani schoolgirl Malala Yousafzai has been recognised for her campaign work calling for all girls to have a right to an education.
Indian campaigner Kailash Satyarthi has worked hard leading peaceful protests against child labour and slavery.
He told the BBC: "It's a great honour for all the Indians, it's an honour for all those children who have been still living in slavery despite of all the advancement in technology, market and economy.
"And I dedicate this award to all those children in the world."
Your comments
Children should have the right to vote, so people hear what they think about the world.
Dexter, Blackpool
Girls should have the right to do anything that boys can do.
Sylvia
All children should have the right to do sports.
Poppy, Cambridge
All children should have the right to have a place to rest.
Holly, Newcastle
This chat page is now closed. Thank you for all of your comments.