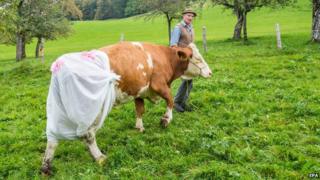 EPA
A Bavarian farmer is protesting against a new rule that is being introduced, by putting home-made nappies on his cows.
The new European Union law means that there is a ban on fertilisers, or the manure left behind by their cows, on any mountain that has a slope of a certain angle.
The farmer, Johann Huber, is angry because the area where he lives is very steep as there are mountains all around. This means that farmers such as him would be affected more than most.
Any farmers that don't stick to the new rule will risk losing any money that they receive to help them, which could result in many of them going out of business.