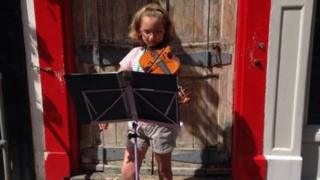 A talented nine-year-old girl has used her violin to raise over £16,000 for charity.
Madison, from Cornwall, decided to go busking with her violin in order to raise some money for the Little Harbour Children's Hospice South West.
Originally she wanted to get £500 and never expected so many people to give her money.
Madison plays classical, TV theme tunes and folk music to impress the local music lovers.
"I've been busking for myself for a few months but I didn't know what to do with all that money, and I don't really need it, so I decided to busk for the Little Harbour," she said.
"It's for very sick and sad children who probably need a lot of help and I thought that was right."
Her parents are always there to supervise, which is very important for anyone who wants to show off their talents in public.