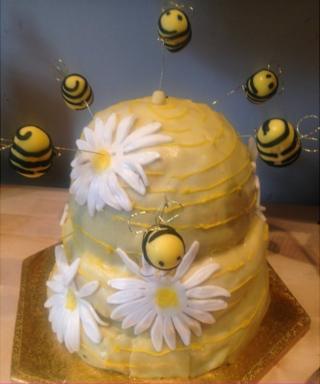 To celebrate the Great British Bake Off final, Newsround super baker Hayley is sharing with us how she makes this gorgeous honey hive cake!
It's really important to always take care when doing any cooking. Make sure you have an adult with you at all times when you are baking.
What you need
Cake mixture
Food colourings (three different colours)
Honey
Butter cream
Yellow icing
Black icing
White icing
Runny yellow icing
Marzipan
Vegetable oil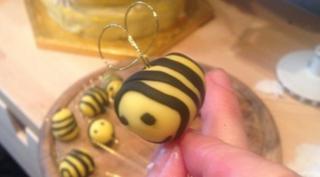 What to do
First, make a cake mixture of your choice. I've gone with Madeira cake but you could use sponge cake or chocolate cake. Do enough for three cakes. Then add three tablespoons of honey to the mixture.
Divide the mixture into three bowls and add different food colourings to each. I've used pink, yellow and blue!
Place two of the mixtures in round cake tins and the other mixture in an ovenproof bowl. Put them in the oven.
When the cakes are baked, take them out of the tins to cool down. When cool, add butter cream to the tops of each cake. Then place them on top of each other to make a hive shape.
Dribble honey all over the cake tower.
Make some yellow icing and mix it with marzipan (this makes it extra nutty).
Place the icing over the cake tower and smooth with your fingers and a bit of vegetable oil.
Use runny yellow icing to draw a spiral around the cake.
Cut some flowers out of white icing (you can cover any holes or creases with the flowers).
With your yellow icing make small egg shapes and draw a black spiral around them with black icing.
Place a thin wire through the icing balls and bend two wings out the top. Pop these in your cake and you have your honey bee cake! (Be extra careful with this bit.)
The best is yet to come though, because when you cut into your cake it will be bright blue, yellow and pink, and covered in sticky honey! Mmmmm.