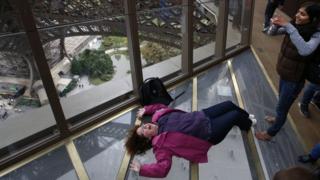 Eiffel Tower gets a glass floor
Visitors to the Eiffel Tower in Paris, France, can now get an 'eyeful' from a different angle - thanks to a new glass floor.
The see-through floor is on the tower's first level, which is 57 metres high.
It's been put in as part of major building work on the tower, which is celebrating its 125th birthday this year.
Watch the clip to hear from some of the first people to try it out.
Watch more Newsround videos