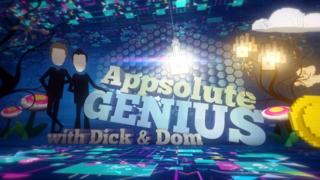 Dick & Dom talk Appsolute Genius
CBBC stars Dick & Dom have been uncovering the secrets of the gaming world for their latest series, Appsolute Genius, which starts on Tuesday.
Highlights for the duo include finding out how the iconic game Pac-Man was invented, with the help of a pizza.
They also try on motion capture suits which can be used to put people into a computer game.
Plus there's going to be a competition where viewers can design their own gaming app.
Watch Ayshah's interview with Dick & Dom for more.
Check out their new webpage for more details on the competition!
Watch more Newsround videos