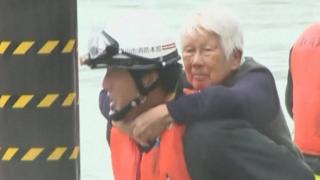 Typhoon Phanfone hits Japan
A powerful typhoon has hit Japan in east Asia and had a major impact on parts of the country.
Typhoon Phanfone caused winds of up to 112 mph as it reached land on Monday morning near the city of Hamamatsu.
It caused thousands of homes to lose power and also affected airlines and rail services.
The typhoon has now passed over Japan and headed out to sea, although there is still the threat of landslides and floods.
Watch Jenny's report for more.
Watch more Newsround videos