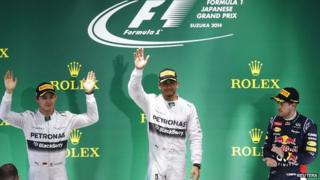 Reuters
Lewis Hamilton took one of his greatest victories to win the Japanese Grand Prix in rainy conditions.
The British driver's now extended his world championship lead by 10 points, with four races to go and 125 points still available.
But there's concern for Marussia driver Jules Bianchi, who was taken to hospital after crashing, putting a stop to the race.
Hamilton passed team-mate Nico Rosberg for the lead with an overtaking move that will be remembered for years to come.
Red Bull's Sebastian Vettel was third ahead of team-mate Daniel Ricciardo and McLaren's Jenson Button.