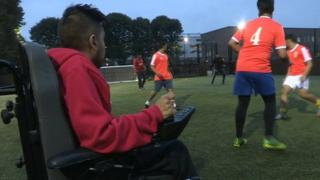 World's first wheelchair footy coach
Sohail Rehman is thought to be the first ever qualified footy coach who uses a wheelchair, training a team of able bodied players.
Sohail's 22-years-old and was paralysed from the waist down as a teenager.
He's got a condition called spinal muscular atrophy (SMA), which means his muscles are too weak for him to walk.
But that hasn't stopped him getting involved in the game, as BBC reporter Atar Ahmad finds out.
Watch more Newsround videos