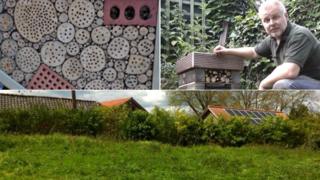 Work has begun on what is hoped will be the world's biggest bee and 'bug hotel'.
Bug expert Jason Alexander is working with Suffolk Wildlife Trust to build 'Bug City', a habitat designed for insects.
He is asking children to help build parts of the structure, which will be kept at the trust's Foxburrow Farm site, near Woodbridge.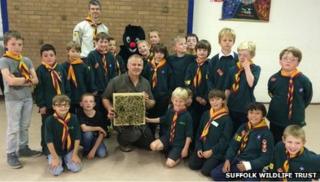 Suffolk Wildlife Trust
"It will be a safe place for insects and other animals to sleep, breed and hibernate," Jason said.
The bug hotel is being created using logs, bamboo canes, pine cones and "anything else which you may find in your garden".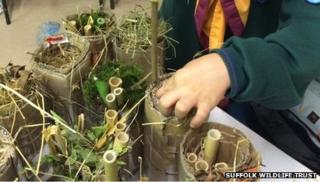 Suffolk Wildlife Trust
Individual sections created by the volunteers will be joined together to create the hotel, which Jason hopes will be about 3ft (1m) high and more than 45ft (14m) long.
Biggest bee house
Guinness World Records says the largest bee house, made from bamboo, is in London and measures 42ft (13m).
Suffolk Wildlife Trust said a recently published study found about 46% of European bumblebee species were in decline, with 24% at risk of extinction.
Kerry Stranix, from the trust, said: "This project will raise awareness of the vital role played by invertebrates in our ecosystem, from pollinators to sources of food for many other species."
Work on Bug City is due to continue until February.