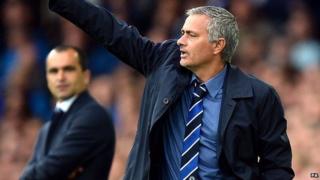 PA
Chelsea manager Jose Mourinho says "there is no racism in football".
This is after people have said that hidden racism is stopping the hiring of black managers at English football clubs.
There are currently only two black managers in the Premier League and Football League.
Some people think at least one black or ethnic minority candidate should be interviewed every time a job comes available.
A similar law is used in American Football, it's called 'The Rooney Rule' after Dan Rooney, who helped to introduce the idea.
But the Blues boss says "football is not so stupid to close doors to people".
"If you are good, you get the job. If you are top, you are top."