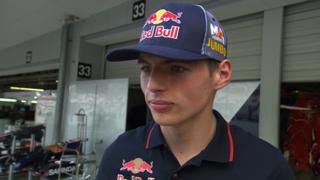 Verstappen pleased by 'quite good' debut
17-year-old Max Verstappen thinks he did "quite a good job" after becoming the youngest driver to take part in an F1 race weekend in first practice at the Japanese Grand Prix.
The Toro Rosso driver took to the track in Suzuka on Friday only three days after his 17th birthday, but the Dutchman's debut was cut short in the final moments by an engine failure.
Verstappen says he was surprised by the power of the engine and that his aim was to build his confidence on the track as the team prepare him for his race debut in 2015.
Watch more Newsround videos