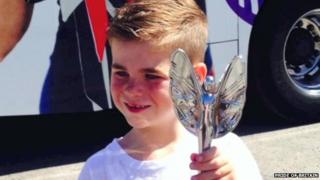 Pride of Britain
A seven-year-old boy has won a massive award to recognise all of the fundraising he's done.
Ted from Cheshire's scooped the Pride of Britain Award for Young Fundraiser of the Year.
On Monday, he'll meet some of the biggest celebrities to pick up his prize at a special ceremony in London.
But we want to know if there anything you've done that you are proud of.
What have you done that makes you proud?
Did you help raise money for a charity?

Have you looked after poorly friends or relatives?

Did you come through a tough physical challenge?

Have you won prizes or awards for your school work or sports?
Your comments
I have done things great, like helping my friend with her sister's disability, but I have never gotten awards for it because no one knows of my good deeds. However, I have got little awards like tickets to plays and stuff.
Rachel, Colchester, England
I was proud when I did a harvest festival.
Aiden, Portsmouth, England
My school raised money for Sport Relief 2014 as well as other schools, and on October 31st we're going to have a Halloween party to raise money for Children in Need this year.
Aiden, Beckenham, England
This chat page is now closed.