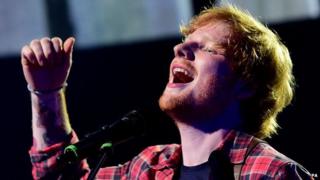 PA
Ed Sheeran's X has overtaken Coldplay's Ghost Stories to become the UK's top-selling album of 2014 so far.
Figures released by the Official Charts Company reveal that Sheeran's follow-up to 2011's + has sold more than 634,000 copies since its release in June.
That puts it ahead of Ghost Stories, 2014's previous top-seller, which since its May debut has sold 470,000 copies.
Sheeran, who has enjoyed chart success in the US, said he was "so happy people have been enjoying my album so much".