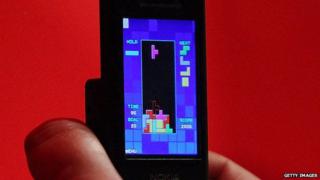 Getty Images
Tetris, the classic video game that involves slotting shaped blocks together, is to be turned into a movie.
The game will provide the inspiration for an "epic sci-fi story", according to film company Threshold Entertainment.
The company adapted the game Mortal Kombat into a movie in 1995.
The simple but addictive Tetris is not an obvious choice for the big screen treatment - though that did not stop Lego making a movie this year.
Threshold Entertainment chairman Larry Kasanoff, who will produce the film, said: "Everyone knows that Tetris is one of the best known, most beloved brands in the world.
"What everyone doesn't know yet is this epic sci-fi story that we're going to tell. That's what's really exciting."
Tetris was created by Alexey Pajitnov in 1984 and is now played online more than a billion times a year.