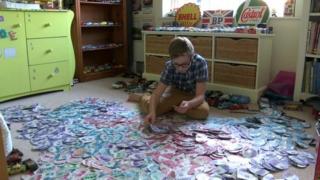 Meet boy with a tax disc obsession
A 12-year-old boy who's obsessed by paper tax discs says he won't give up his hobby now they've been scrapped.
Jude has collected 12,000 discs and says he'll keep buying them on websites.
He also hopes lots of people will continue to give him their old ones.
New rules, brought in on October 1st, mean car drivers don't have to display a paper tax disc on their windscreens any more.
They will still have to pay, but do not need the paper proof.
The BBC's Sonja Jessup went to meet Jude.
Watch more Newsround videos