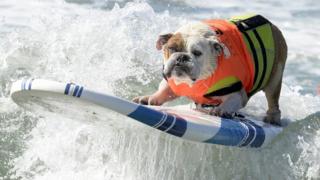 Surfing sporty pooches in California
Sporty dogs have taken part in a surf competition in California in the US.
The ''Unleashed by Petco Surf Dog Competition'' included races for extra-large, large and medium sized dogs.
The pooches were judged on their surfing skills, the length of their surf and their confidence.
The winners of the owner and dog joint surf were Bono, a chocolate Labrador Retriever and his owner, Ivan.
Watch more Newsround videos