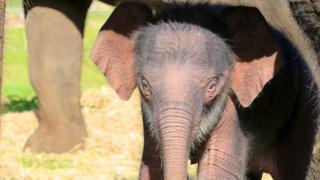 Woburn
Now how's this for cute? This is the new baby elephant born at Woburn Safari Park.
It's mum is a 20 year old Asian elephant called Damini and she carried it for 22 months.
It's dad is also 20 years old and called Raja - the park's only bull elephant.
The baby, which hasn't yet been named, stands three foot tall and weighs 122kg.
It's expected to grow to over three metres tall and will eventually weigh four tonnes.
It's a very important baby because there are only 25,000 Asian elephants left in the wild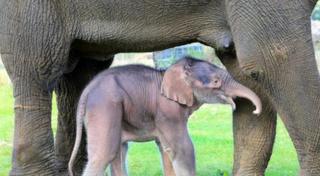 Woburn
Woburn Safari Park has been working for years to try to help the species flourish in the future with conservation projects.
We told you yesterday that many wild animal populations have halved in the past 40 years.
She's expected to spend her first few days bonding with her mum exploring her new home in the elephant house and meeting the other elephants in the herd.
Terry Shelton, Head of Elephants, said "Damini has taken to motherhood fantastically. She has been very relaxed, getting to know her newborn with gentle trunk touches whilst her new aunts, Chandrika and Yu-Zin, are able to watch the newborn take its first steps and suckle from Damini."