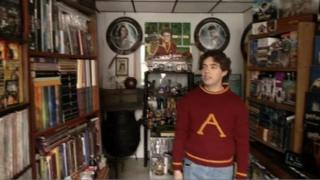 Aptn
Who do you think is the biggest Harry Potter fan? Surprisingly it's not a child or teenager but a 37 year old lawyer from Mexico.
Over the past 14 years he's collected 3,097 pieces of Harry Potter memorabilia that includes figures of the main characters, clothes and toys.
Asher Silva Vargas has now made it into the Guinness Book of Records.
He said it was never his intention to buy so many things.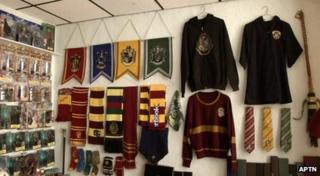 APTN
"When I realized my treasures began to take up more than one room, I decided that I should take this seriously".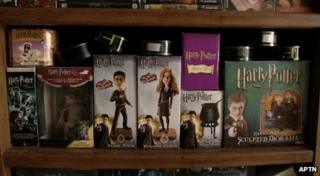 APTN
His friends and family encouraged him to tell the world about his impressive collection.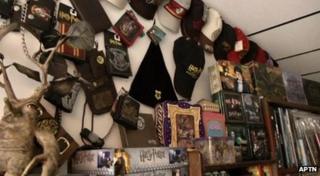 APTN
This chat page is now closed. Here are some of your comments
I collect phone cases
Alex, York, England
I love collecting buttons and coins!
Anne, Woodford Green, Essex
I collect DVD's - I have over 1000
Archie, St Helens, England
I collect marbles. I have over 300. I love what they look like and I like playing games with them
Laura, West Yorkshire, England
Awesome Harry Potter fan! I only collect football cards
Gonzalo, Warsaw, Poland
I collect tickets. I have 10 boxes of them!!!!!!
Amelie, Sheffield, England
I collect Postcards, coins -foreign and the Olympian 50 pences - and BOOKS -I have around 500 !!
Casey, Derby, England
I collect Lego Minifigures. I have made about 67 and have bought about 17 ready made ones .
Alexandra, Caerleon, Wales
I collect rubbers, a lot of my collection comes from my mum and auntie they used to collect them too
Charlotte, Douglas , Isle of Man
I collect clothing accessories because I love using them for fashion and love to keep them forever!
Rosie, London, England
I collect fossils I have loads but not as many as this guy.
Ben, Farnham, England
I am the most obsessive collector from stamps, toys, clothes, stickers to ornaments, old computers, glass vases and brass.
Claire, Stoke-on-Trent, England
I collect a few things. My biggest collection is piggy banks. Loads of them!! I've got all kinds. My room is Piggy Paradise!
Rachel, Edinburgh, Scotland
I love Moshi Monsters and I also collect Barbie dolls
Georgie, Solihull, England