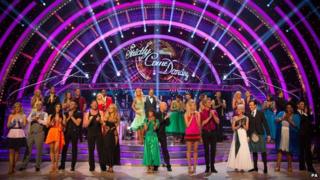 PA
Strictly Come Dancing has beaten X Factor in their weekend ratings battle, drawing thousands more viewers on both Friday and Saturday than its rival.
BBC One's Strictly had a Friday average of 6.5m viewers as it went head-to-head with the ITV show, which had 5.8m.
On Saturday, the shows had a half-hour overlap, but Strictly had an average audience of 8.1m, while X Factor got 7.7m.
Friday's X Factor audience was one of the smallest since it launched in 2004, despite the return of lead judge Simon Cowell.
And Strictly's Saturday show was down by more than a million on the 9.2m who tuned in at the same stage of the series last year.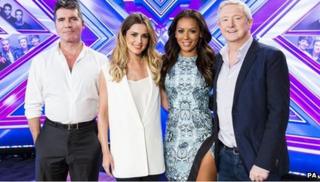 PA
One show not to have suffered a ratings hit over the weekend was Doctor Who, which was shown an hour later than usual on Saturday to accommodate the start of Strictly.
The usual average of 4.8m viewers tuned in to catch up with the adventures of new Doctor Peter Capaldi.