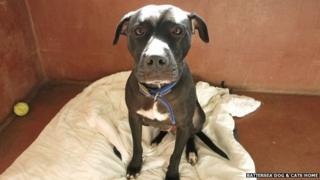 Battersea Dog & Cats Home
An animal charity is looking for a new home for a dog who's scared of walkies.
Whisper the Staffordshire Bull Terrier is "terrified of people and the outside world".
Staff at Battersea Dogs & Cats Home in Old Windsor, Berkshire, say she is "one of the most extreme cases" they have come across.
They think the six-year-old developed a fear of the outdoors by "being kept in a shed or indoor cage" by her previous owners.
Karen Slavid from the dogs home said: "We know that she's going to need very understanding owners but more than anything we want her to enjoy a life outside kennels like any other dog.
"Whisper has had a terrible start to life and she really deserves a happy ending," she said.