Strictly Come Dancing is back with a bang and the stars finally showed us their moves this weekend after three weeks of intense training.
The Saturdays singer Frankie Bridge stormed to the top of the scoreboard as she achieved the highest score of 30.
Radio 1 DJ Scott Mills got the lowest score of 16 after dancing to the Robbie Williams' hit 'Rock DJ'.
Mark Wright, Pixie Lott and Masterchef's Gregg Wallace were all in action in front of a live audience.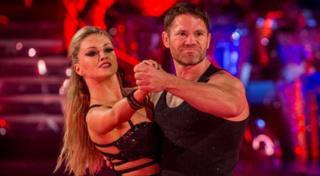 None of the 15 couples have to worry about the dreaded Dance-Off as all will get to dance a second time next weekend.
But we want to know your thoughts on the opening weekend of performances.
What did you make of the new Strictly stars?
Which celebrity most impressed you?

Who did you find funny to watch?

Was there anyone who surprised you with their dancing skills?

Who needs to improve the most?
Your comments
I think Frankie Bridge deserved to win the 1st week with her Waltz because it was lovely and graceful!
Millie, England
I thought the opening was amazing and Steve Backshall was fabulous doing the tango!
Isabel, Chesterfield, England
Go Kevin from Grimsby and Frankie and Joanne from Grimsby and Scott.
Isaac, Pembrokeshire, Wales
Frankie was amazing! But I don't know whether she will be able to do Latin. Steve was loads better than I thought he would be as well.
Xanthe, England
I think either Frankie, Mark Wright or Pixie Lott deserve to win 1st place because they are good dancers.
Amy, Preston, England
I don't know who will win because everyone was so good!
Angharad, Pembrokeshire, Wales
I thought that all the dances were awesome!
Ria, London, England
My favourites are Frankie, Pixie and Steve Backshall. They all danced really well and I cant wait for next week!
Emily, West Midlands, England
I think Steve did really well but my favourite was Frankie. I feel sorry for Scott at the bottom of the leader board.
Sophie, Davenham, England
I think that Frankie had experience from The Saturdays and that helped her do well. I think Steve should of come top! Everyone was amazing.
Heather, Perth, Scotland
I think Frankie Bridge should win because she's an amazing dancer and she's so pretty. Also, I think Pixie Lott should stay until the finals.
Izzy, Gloucester, England
I have watched Strictly since I can remember and this year has to be the strongest year! Every single celebrity has potential though my favourite is Frankie Bridge. She is amazing!
Elicia, Lincolnshire, England
I think Tim and Natalie where absolutely appalling! While, Frankie and Kevin where superb. SEVEN!
Amy, Bath, England
I thought Pixie was excellent, she really was a great dancer. Well done Pixie!
Daisy, England
I think that Frankie Bridge will go far with Kevin from Grimsby.
Isaac, Torphins, Scotland
I think Steve Backshall will win because he is quick on his feet from running from the animals.
Emily, Cartaton, England
I think Tim Wannacott, Gregg Wallace and Scott Mills were funnily bad! I hope they improve! Frankie and Pixie were great, so I think they will go far! I thought Steve Backshall was surprisingly good, as was Jake!
Libby, Bath, England
I thought either Steve Backshall, Pixie Lott and Frankie Bridge deserve to win even though this is the first week. I also thought Sunetra Sarker was good, so overall, everyone was ok.
Charlotte, Swindon, England
I was really sad that Gregg and Scott were at the bottom of the table. Steve did really well for his first dance and the song he chose to dance to was great. Pixie was really good and her partner Trent reminds me of someone!
Yvette, Warwick, England
I love Strictly! Frankie is my favourite contestant.
Kirsten, Downpatrick, Ireland
I think Frankie Bridge was amazing with her Waltz yesterday on Strictly. I gave her a 10. Gregg Wallace made me laugh as well!
Isabel, March, England
I think that Mark Wright might win because he is an amazing dancer and everybody likes him.
Shannon, Somerset, England
Steve should be dancing with a shark.
Eleanor, England
I think Frankie or Steve will win.
Amelie, Edinburgh, Scotland
Steve Backshall was great!
Lewy, Manchester, England
The magic has gone from Strictly. I look forward to this programme all year. The partnership just doesn't work between Tess Daly and Claudia Winkleman. You need an entertainer to partner with Tess. John Barrowman comes to mind.
Clive, Dover, England
It's great to see Pixie on the dance floor. I love you Pixie. You go girl!
Sam, Northampton, England
I want Steve to win as I love Deadly 60!
Olivia, Northern Ireland
I thought Pixie was good but I think Jake Wood will win. He is very talented.
Lili, Ramsgate, England
I love Frankie because she is so elegant!
Niamh, Teddington, England
I think Steve and Ola will win because I liked their tango last night. My mum thinks Steve is cute.
Eryn, Wales
I think Steve Backshall will win because he is epic!
Ahmad, Reigate, England
Go Steve Backshall! I want you to give it your all.
Ophelia, Usk, Wales
My favourites were Pixie, Alison, Steve and Frankie. I want Pixie or Steve to win. But it's not Strictly without Brucie!
Frankie, Pembrokeshire, Wales
I think Pixie Lot was the best out of all of them! Go Pixie!
Zahra, London, England
I loved all the dances but the ones that stood out the most were Jennifer's jive and Judy's waltz.
George, Bedfordshire, England
We are devoted Strictly fans. Some celebrities who we thought would be good weren't. On the other hand, Alison stood out to us as she is a good mover! Martha misses Brucie and thinks that Tess and Claudia are a partnership that just doesn't work. Keep dancing!
Molly and Martha, Oswestry, England
I love Frankie. She danced so well. It was so amazing.
Amelia, England
The dancer that impressed me most was this week was Caroline Flack. I found Alison funny to watch. I think Alison needs to improve a bit more.
Veronica, London, England
I thought that Steve was very good but Frankie deserved a higher score.
Teale, Dumfries, Scotland
My favourites are Steve, Scott, Pixie, Frankie, Mark & Thom. I found Gregg & Tim funny. I think Scott Mills should work on his hips when he does a happy dance and work also on the posture for the waltz. Sunetra astonished me so much that I had a shocked face like this :-O
Rachel, Solihull, England
This chat page is now closed. Thanks very much for sending us your comments.