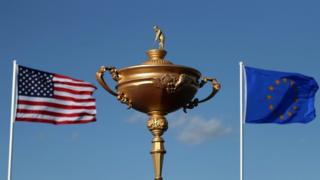 Reuters
The Ryder Cup is a sporting showdown played every two years between Europe and America's top golfers.
The 2016 competition is being held at Hazeltine National Golf Club in Minnesota, USA.
For the event, players who usually walk the globe's golf greens on their own have to become part of a team.
USA have won 25 times, while Europe have 13 wins, with two ties (in 1969 and 1989) when the holders retained the cup.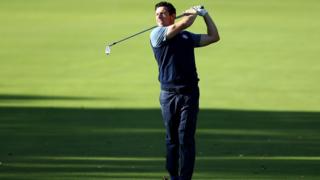 Getty Images
Each team uses 12 players for the three-day event. On the first two days the players play as pairs and on the final day they play one against one.
For the US, the top eight players in the points standing of the PGA of America make the team, as well as four players who are Captain's Picks.
For Europe's team, the leading five players on the European Tour's World Points List and the leading four players on the European Points List make the team, as well as three players who are Captain's Picks.
Tom Watson, Tiger Woods, Sir Nick Faldo, Seve Ballesteros and Rory McIlroy are just some of the great golfers who've taken part.
The competition is named after its founder, Samuel Ryder, an English businessman from Hertfordshire.
The first official Ryder Cup was held 1927 at the Worcester Country Club, Massachusetts, America.
Back then the competition was between the US and Great Britain, but in 1979 the British team changed to include players from across Europe.
The Ryder Cup trophy is around 43cm high with a figure of Abe Mitchell, a friend and golf instructor of Samuel Ryder, on the top.