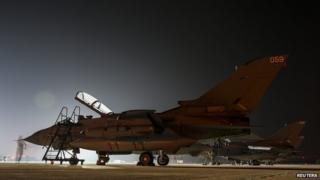 Reuters
RAF jets have carried out their first strikes on Islamic State targets in Iraq, attacking a "heavy weapon position" and an armed pick-up truck.
The Ministry of Defence said the attacks were in support of Kurdish units in the north-west of the country.
The strikes - by two GR4 Tornados - came four days after Parliament approved military action, and were said to be "successful".
About 40 nations are targeting IS, which controls parts of Iraq and Syria.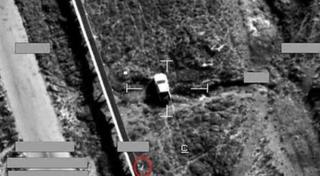 Other
On Friday, Parliament voted by 524 votes to 43 for UK air strikes against IS in Iraq.
The Conservatives, Liberal Democrats and Labour leaderships all backed air strikes.
However, some politicians expressed concerns about where it would lead and the prospect of future involvement in the neighbouring country of Syria.
'World must unite'
Speaking at the UN in September, the Prime Minister said the "the whole world must unite" in stopping the militant group.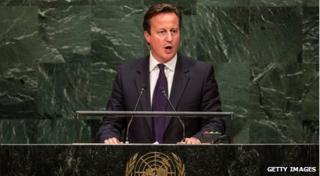 Getty Images
US and Arab jets began bombing IS targets in Syria last week.
If you're upset by anything in the news click here for advice.
Who are Islamic State (IS)?
IS is a radical militant group which has threatened to harm any non-muslims unless they convert to Islam.
They want to make a new country called the Islamic State. It would join parts of Iraq and Syria together.
After months of fighting IS have taken over large parts of Iraq and Syria.
Mr Cameron said the Iraqi government had made a "clear request" for international military assistance against IS.
He added that this provided a "clear basis in international law for action".
The US and its supporters including several Arab countries, such as Jordan and Saudi Arabia, launched the first air strikes against Islamic State (IS) in Syria on Monday.
The strikes were expected as part of President Barack Obama's pledge to "destroy" IS.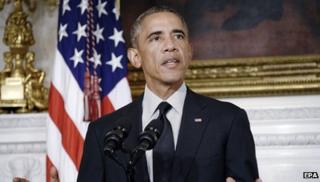 EPA
The US has already carried out more than 170 air strikes against the group in Iraq since mid-August. But Monday saw the first time IS had been targeted in Syria.
Pentagon spokesman Rear Admiral John Kirby, said fighter and bomber jets and Tomahawk missiles have been used in the attack.