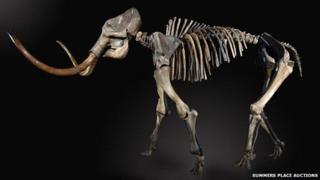 Summers Place Auctions
An almost-complete skeleton of an ice-age woolly mammoth is to be sold at auction.
It's male, 3.5 meters high and 5.5 meters long. It lived about 10,000 years ago in the grasslands sweeping from North America to Europe and Asia.
It would have been covered in long fur, but has smaller ears and a shorter tail than elephants now.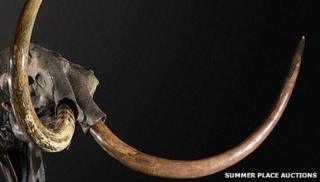 Summer Place Auctions
It weighed more than six tonnes - that's the same as three cars.
Museums around the world and private collectors are expected to place bids at the sale at Summers Place Auctions in West Sussex on November 26th.
Director Rupert van Der Werff, 'It's exceptional - it's more or less complete with two magnificent tusks. There are one or two toes missing. The inside curve of the tusks is about 2.4 metres long.''
Very rare
It's very rare and was owned by a collector in Eastern Europe. There are so many bones it's only just been managed to be put back together
It's thought the massive bones could fetch up to $400,000 which is about £250,000 pounds.
Last year a diplodocus skeleton sold at auction for more than £400,000 ($654,000).