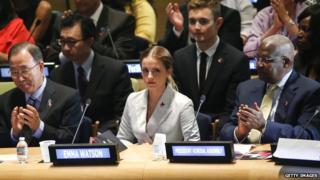 Actress Emma Watson demands equality
Harry Potter star Emma Watson's been speaking out about making boys and girls more equal.
It's part of her new role as a United Nations goodwill ambassador for women.
The actress is hoping to challenge peoples views about women and the inequalities they suffer. Something inspired by her own experiences.
Emma said: "I think it is right, that socially I am afforded the same respect as men, but sadly, I can say, that there is no one country in the world where all women can expect to receive these rights."
She added: ''No country in the world can say they've achieved gender equality."
Watch more Newsround videos