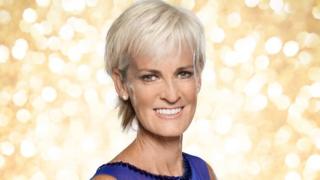 Strictly Come Dancing kicks off this weekend and Andy Murray's mum, Judy, has been practising her first routine.
But, the Wimbledon champion said he doesn't think his mum's chances of winning are too high.
Andy said: "I've never really seen her dance before. But I hope she has a good time, I'm sure she'll enjoy it."
He added: "She's told me she's been having fun with all the training stuff. Hopefully she can do well."
Do your parents look good on the dance floor?
Your Comments
My mum has starred in many west end productions, so she's good, and as for my dad, he's an embarrassment when he dances.
Zoe, Bucks, England
My mum is a good dancer, as she did a lot of dance and drama when she was younger, but my dad can't dance!
Poppy, Southampton, England
My parents are terrible at dancing. It's so embarrassing!!
Oliver, Wiltshire, England
My dad is the worst dancer in the world. I get my dancing off him!
Harry, Barton-upon-Humber, England
My parents are good at dancing, but my dad can be really embarrassing with his dad dancing!
Amy, Houghton-Regis, England
My parents are ok dancers, though I reckon I'd beat them in a dance off!
Olivia, Northern Ireland
My mum is actually quite good at dancing, she used to be a ballroom dancer. I don't know about my dad, but if his dancing is like his singing... well you don't want to hear that!
Leonie, Yeovil, England
My mum is the worst dancer in the world she just looks so silly.
Lola, Westcliff, England
My parents always dance when my friends are round to play and neither of them can dance so it's really embarrassing.
Sophie, Wokingham, England
I think my dad is really embarrassing when he dances, even though I sometimes join in.
Amber, Harrogate, England
My mum is alright at dancing, she can ballroom dance amazingly, but any other dance she is really bad. My dad is the worst dancer in the world he is alright at free styling but any other dance, he is really bad!
Grace, Manchester, England
I love my mums moves.
Dlair, London, England
My parents CAN'T dance at all! I don't allow them to dance in public because they're so embarrassing. I remember I once let my mum up to do some Greek dancing, never again will I make that mistake!
Caitlin, Manchester, England
When my dad dances I nearly die of embarrassment. His shimmies and shakes may be cool in Pluto, but definitely not on Earth.
Freya, Glasgow, Scotland
My mum is a very terrible dancer but my dad is amazing. Does anybody know a dance school for my mum?
Amelie, Birmingham, England
My mum dances like she's got ants in her pants and is washing the windows.
Nikhil, Chigwell, England
My mum is a good dancer and my dad is good at dancing to rock 'n' roll and is like an angel on karaoke.
Morgan, Orkney, Scotland
My parents are embarrassing as they dance horribly! I am glad no one has seen them dance as much as I have!
Ellie, Coatbridge, Scotland