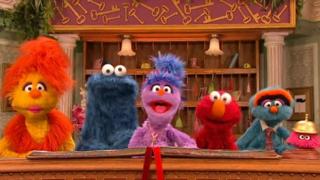 On set with Elmo and Cookie Monster
Two of Sesame Streets most famous characters, Elmo and the Cookie Monster, are starring in their first ever UK TV show.
It's called the Furchester Hotel and will be shown on CBeebies.
The hotel is an "almost world-class hotel" owned by Funella Furchester, her husband Furgus Fuzz, and their daughter Phoebe Funella-Fuzz.
BBC entertainment reporter, Colin Paterson checked in for a behind the scenes visit.
Watch more Newsround videos