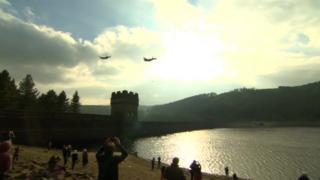 Last Lancaster bombers fly over dam
The last two airworthy Lancaster bombers in the world have flown over the Derwent Reservoir, in a tribute to the men who practised the Dambusters raid there.
The once in a lifetime sight was in tribute to the Dambusters crews and those killed in World War Two.
The Dambusters was a very famous raid that took place in WWII, and two German dams were destroyed by low flying planes which dropped revolutionary "bouncing-bombs", which could bounce on water, that shattered the dam walls, disabling water and electricity supplies.
The crews had flown countless practice flights over lakes, reservoirs and dams in England and Wales in the weeks before the events took place.
The Lancasters have been united for a series of events in the UK.
One, Thumper, is based in Lincolnshire, and the other, Vera, is normally based in Canada.
Retired Sqn Ldr Stuart Reid, who previously flew the RAF's Battle of Britain Memorial Flight (BBMF) Lancaster, said: "It was very much a British and Foreign and Commonwealth attack against the dams, as was much of the bombing campaign fought against Germany during the Second World War."
He said the operation was one of the most famous raids in RAF history.
Watch more Newsround videos