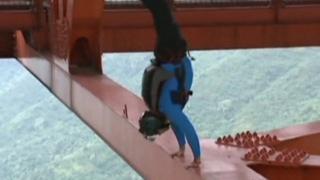 Base jumpers leap from bridge
Base jumpers from around the world have been competing in Anshun city in China.
Competitors had to leap from the Balinghe bridge which is 370 meters high.
They had to perform acrobatics to impress the judges, before opening their parachutes and landing as near the centre of the 'target zone' as possible.
35 base jumpers from 16 countries took part in the competition.
Watch more Newsround videos